At Pavna, we believe that creativity involves purposeful play. Our learning-through-play approach in the Early Years is the means by which we inspire our young learners to develop that early love of learning, increasing and deepening key age-appropriate skills, knowledge and understanding.
We follow the Framework of the Cambridge Curriculum for Early Years.
Our Early Years curriculum focuses on the Cambridge Six Areas of Learning….
1. Communication, Language and Literacy
2. Creative Expression
3. Mathematics
4. Personal, Social and Emotional Development
5. Physical Development and
6. Understanding the World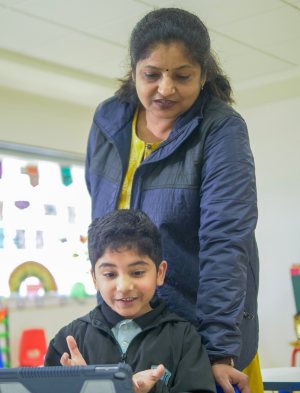 This ensures an enjoyable, holistic, balanced and learning-rich experience for our young students every day.
Our experienced teachers plan activities that develop children's abilities, skills and aptitudes in the above six areas of learning, adapting learning moments to ensure children's individual needs and progress against key development milestones are met.
Above all, our children enjoy coming to school. They engage in a wide range of indoor and outdoor activities, infused with sensory and tactile learning experiences. For children whose first language is not English, we are proud that they make such good progress so quickly in speaking and understanding English. In Early Years 2 we begin a more formal approach to learning English phonics.
We believe in the importance of parents as key partners in children's learning, and we therefore maintain open communication with parents, sharing feedback and insights regularly. We encourage parents to read, share books and other reading materials, to play with their child, and to talk with them at home and outside of school about their learning.
We have excellent facilities, including a specialist dance studio, interactive TVs in each room and a dedicated multi-purpose activity room (called the "Pick-A-Tale-Room") where children can – among many other activities – climb, role play and make larger constructions.